As Richard G4DDP mentioned in Parts 1 and 2, Hamradio 2015 brings together many of the  EU dealers under one roof.  Effectively Hall A1 for new equipment. In addition to German dealers like WiMo and Difona there were several Italian and Greek dealers also attending.  In previous  years Waters and Stanton have had a large stand selling their range of accessories but now do not attend.
Following on from Part 1 and 2, this post looks at some of the cost savings that can be achieved and compares prices of radio equipment also available from the major UK traders in the UK.  With the favourable exchange rate (£1 buys €1.40 or  €1 = 70p) and competitive pricing, there were bargains to be had.
As always, any price comparison has to consider after sales service – buying locally is going to be easier than returning faulty goods to an EU dealer,  notwithstanding the pan-European guarantees that are provided with the major vendors. All the same, it is interesting comparing prices at the show with those on offer (RadCom and web) in early July just after Hamradio 2015.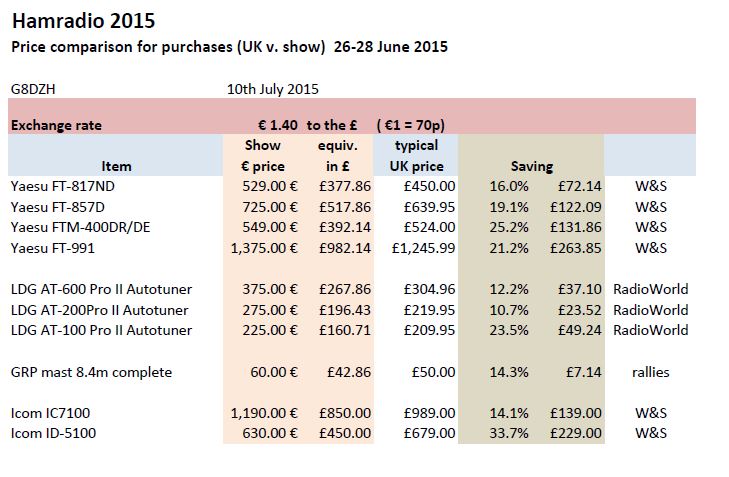 The new Yaesu FT-991, at €1,375 (£982.14) was a good example of the savings, 21%, that can be made.  I purchased a FT-817ND, somewhat cheaper  but similar percentage savings.
Some photos of the boxes piled high looking for new owners and showing the pricing….
There were bargains to be had.
73
John G8DZH
Email: g8dzh@lefars.org.uk