Following on from Part 1 this is more a montage of the show plus some pertinent information about what to see and do.
The picture below shows an aerial view of the halls, the Ham Radio element uses Halls A1, A3 & A4 plus a number of the lecture theatres with Maker World occupying Hall A5.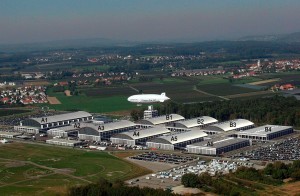 Hall A1 is where the major manufactures like ICOM, Kenwood, Yaesu etc reside together with the various Ham Radio companies mainly from Europe, many European societies and a smattering from round the world such as ARRL, Thailand, Qatar. Here you can buy virtually any of the myriad of Ham Radio products such as Transceivers, SDR, Aerials, Cables, Masts ( including a nice 34M Luso tower ! ), a number of high quality VHF, UHF and SHF suppliers such as Kuhne and tools. As well as the radio related items there were the usual suspects of dentistry suppliers, radio control models and general electronic parts, it costs more to setup in this hall compared with Halls A3 & A4. Below are a number pictures from this hall over the three days. Below is a selection of pictures from this hall.
John G0VEH & Dave G3VGR at the RSGB        Atrium where talks and raffle held
Outdoor eating area                                      Small 36M LUSO tower !
ICOM                                                                     YAESU
DARC training for youngsters
 Various society pictures
            Our transport back to hotel !              We felt we had to help DIG finish the beer!
 Halls A3 & A4 are where the Fleamarket resides together with the smaller companies and one man bands. Here all manner of components from SMD up to multi KW valves from a bygone era plus huge quantities of army surplus, some bargains and some prices which were optimistic to say the least. If you cannot find the component you are looking for here I doubt whether you will find it elsewhere ! To give you an idea of the size of the hall, there were 18 rows of tables each 100M long in each hall so lot of walking. Below is a selection of pictures from these halls.
 Hall A5 is where Maker World exhibited. This is where electronics of various types such as 3D printing, remote control models, drones lived plus the old favourite of Steampunk. There were also various strange gothic creatures inhabiting this area as you can see below from the selection of pictures !
 There is a lot to see in the local area so as well as the show we explored into Austria and also along the lake via ship. Food and drink was also sampled for scientific purposes only !
So great show and if you can visit it, you will not be disappointed !   
Click here for part 3 – a price comparison.