With the able assistance of John M0UKD I put in an entry for the 432 MHz UKAC last night, operating outdoors portable. As  the evenings draw in, and the light now fades at 8pm the will no doubt be one of the last UKAC that allows us to sit outside and operate under the stars.
For I think the  first time in memory we had completed the setup 15 minutes before the start time 8pm local. The station comprised of the 12m Racal mast, Jaybeam 48e x yagi and Icom 7100 with leisure battery.
We noted before the contest started some very slow and deep QSB, taking signals from s7 to zero at times, and so we knew some stations would be a challenge.
As the evening progressed our score slowly rose to 40 QSO with the best DX being GI4SNA @ 530km. We also worked a further GI station GI6ATZ @518 KM.
Operating by gas light ….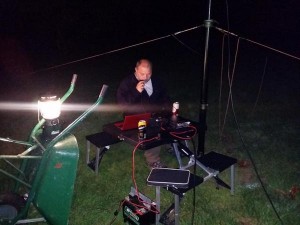 Despite our best efforts I was unable to hear or work GW or GM
The claimed scores can be viewed here
A map showing the QSO is available here
73 Dave M0TAZ