29th May 2013 09:07z – Ullapool.
Plan is to try some operating today on HF from the Highlands of Scotland. I will be MM0TAZ and hope to be on 40m around 7.175. I don't think I will have any internet coverage, but if you use twitter @m0taz for the latest updates.
The operating location is here, I'm around 450 miles (600 road miles) North of London.
I also plan to try 5 MHz, not sure what freq but I will aim for one of the old allocations (as they are in my radio). Again will depend on band condx.
29th May 14:02z
Now active 7163 from Ullapool
29th May 19:49z
Working portable from any location is always fun, but today I got the chance to work /P from the Highlands of Scotland in the sun. The equipment was my basic portable setup, Icom 7000, 65 Ah battery, 12m roach pole and 24m (12m per leg) doublet.
The operating location was Ullapool on the West coast of Scotland. I settled on a rural lay-by close to the A835 around 5 miles North of Ullapool, room for the doublet and away from the public. I setup on 7 MHz, and quickly joined M0UKD John for a chat, the signal as expected was a push on 7 MHz with 5-5 to 5-7 from John. The noise level at my side was zero, so the signal to noise on everyone was very good.
I operated for 2.5 Hrs and worked 26 stations on 7 MHz including Brian M0OAB and Wayne G4YOH from LEFARS. Having never worked from this far North I was surprised I could work into London, most of the stations I worked were from the Midlands, Cheshire, Runcorn, Leeds, Wolverhampton, Liverpool.
My operating location was here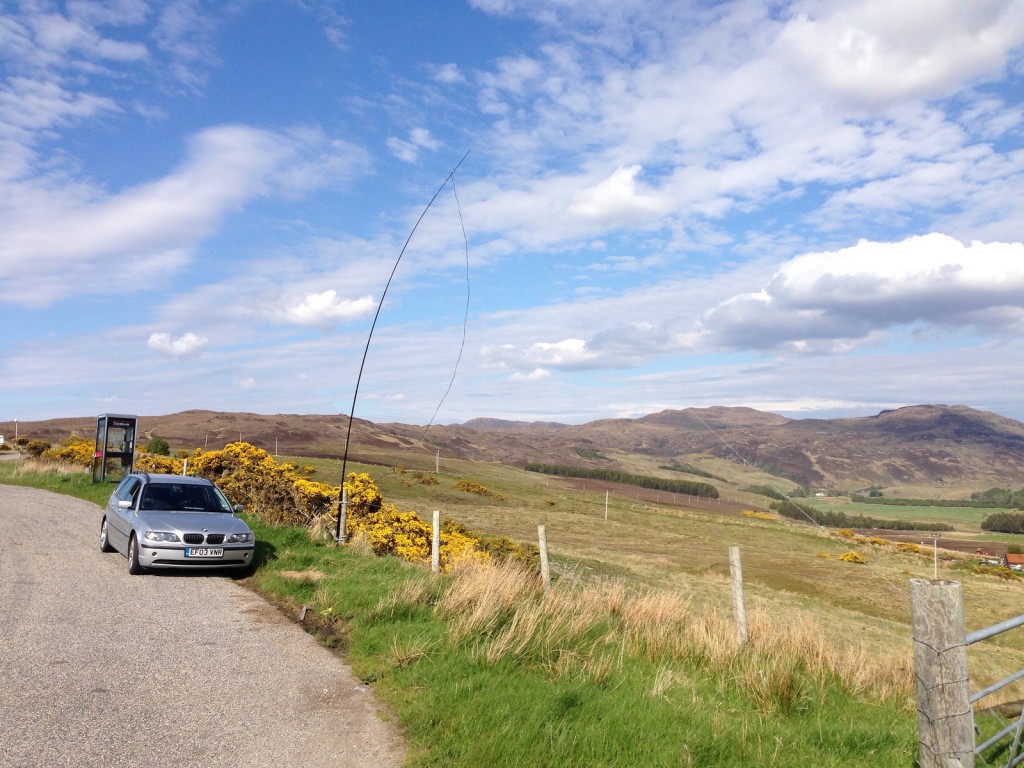 1st June 07:38z
I haven't done much radio as the weather has been so good and the opportunity to take pictures is great.
The Highlands are stunning in the sun (photos here).
2nd June 21:53Z – Fort William
I'm now in Fort William, and the weather has been so good I have been out taking pictures most days.
http://www.flickr.com/photos/m0taz/sets/72157633796896276/
Not much radio at this time, although I do plan to operate from the Isle of Sky on Tue or Wed. Had a few problems with internet connectivity as the 3G signal is quite weak in my luxury travel lodge in Fort William…
The car decided to develop a fault after 1,000 miles, and needs a repair before I can continue my journey (crank shaft pulley – what ever that is)… We have one BMW dealer in the Highlands, and that's Inverness. Let's hope they have a part tomorrow.
So hopefully once the car is repaired it may be game on….or it could be a return on the back of a truck !
3rd June 22:53z – Isle of Skye
The car is fixed, and I'm mobile again, the portable battery is on charge tonight and will be ready for tomorrow. The plan is to find a location to operate from the Isle of Skye (my current location) and use 7 MHz from around 7 PM. I should be OK to operate from 7 till 10 and hopefully the skip will be a little longer from that time in the evening.
Today was a lovely day again, I caught the ferry to the Isle of Skye from Mallaig. Its a 30 min crossing, and only costs around £1 per minute ! A large notice on the boat said "please ensure your car alarm is disabled before locking you car".  Interestingly, I never appreciated just how musical car alarms can be in unison….
So please add a note to your diary, I will be on from 7PM, most likely on the upper middle section of 40m, 7.175 MHz (give or take QRM).
I don't know exactly where I will be located, but have a look at the map, it will be here approximately.
Hope to see you all soon.
4th June 22:41z – Isle of Skye EU-008
Wow what can I say, I got on the air bang on 7pm and the band filled up very quickly. I was QRV on 7.188 and a pile up quickly formed, thanks to everyone I worked from the club too sleepy to look at the log, but Frank G0LWI dusted off the mike and was a good copy in Skye. I worked from 7pm till 10pm non-stop pile up, and must have worked 70 stations ?
The locator was IO67VK  and WAB NG44.  IOTA EU-008.
The best DX for the evening was VK7AC at 5-7 (thanks Norman for calling me) !!
I worked all over the UK from the Midlands to Cornwall and the South Coast. Signals were also good into Italy, Belgium, France, Spain, Netherlands, Germany, Switzerland, Ireland, Isle of Man, Wales…
I have uploaded some further pictures from the day (not radio related) but the weather has been so warm, I even got burnt today and had to purchase some sun tan lotion….
73 for now
Dave MM0TAZ
[edited 06-Jun-2013 10:23z – photos added]
Links – Youtube here
Update – 5th June 23:09z – Isle of Skye
Tonight was my last night of operation before the long journey home. Once again I operated on 40m, working quite a few local London calls, G4HRC and one of my new M6 Neville on his 10w.
The setup tonight was a 40m doublet (20m per leg) and the mast was set to 9m, with the Icom on 60w. I had good reports all over the UK once again, working back into London as 59. Worked quite a few low power stations 5w and 10w stations and some HF mobile stations.
I've included a snap shot of the various DX spots for me over the last couple of days…including the one from VK.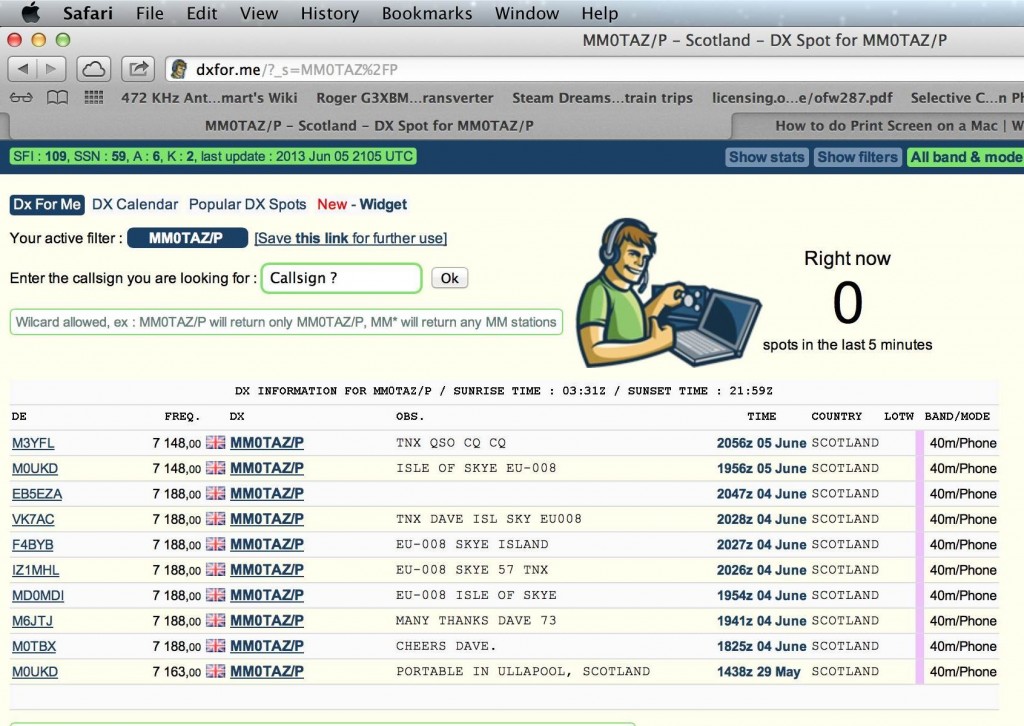 The midges got the best of me tonight, at one stage I had hundreds buzzing my head and biting me …. so it was time to close.
I have also been busy taking pictures on the Island of Skye,  here for the latest stream.
73 and hope to have some further video and audio / pictures to upload soon.
Dave
MM0TAZ