Just back from HamRadio 2012 at the Friedrichshafen Messe and a few minutes before venturing out to get some food & more drink. Staying at a nice hotel north of Lindau, also frequented by other Hams, including a family from Slovenia. Oh, and Dick G4DDP (who will also be reporting). Plus Andy G6ULX.
Wx is hot and sticky – gather from John G0VEH's email it is miserable in London. What a shame 🙂 However, there was a violent thunder storm on Thursdsy evening which is quite normal for this time of year.
I have been in Germany since Tuesday evening, Dick 'DDP a day later. Dick drove direct as also on business in the area. My route was via Zurich Airport and the train to Lindau.
We arrived at the show about 9:50 and went straight in having ordered tickets online. This provided a €2 discount on the the three-day ticket price (€20 at the door).
After signing in at the RSGB stand, the morning was spent in the main hall. This contains the main dealers and Companies as well as the National Societies. As usual there was a long orderly queue at the ARRL stand for DXCC acredditation. Next to them were the Greek and Turkish Clubs. Lots of brochures to visit Greece and some food. Other societies also were there with varying refreshments (photos to follow).
The best though was a stand for a forthcoming Russian Rally on 13-16 September. Samples of Russian chocolate, vodka and red caviar were on offer with two charming Russian YLs  (Alena & Kate) to extol the virtues of visiting Moscow in September. Link here for more information
More soon…. food and drink beckons.
Update 23:00 CET
Back from the hotel's beer garden where there's a big TV set on and the locals have watched Greece lose to Germany. Football is taken seriously in Germany, Dr Merkel seemed happy enough at the outcome. Of course this is the quarter-final stage only.
As Dick G4DDP has mentioned in the other update (delayed due to the Wi-Fi being a bit slow in uploading photos), The show is held over three days and four halls. So far I have visited Hall A1 and half on one of the fleamarket halls (A3).
FLEX-6000
There will be a review of the FlexRadio Systems FLEX-3000 SDR radio in the LEFARS newsletter (due any day now) but already there is a new sibling on the block – FLEX-6000. As Dick G4DDP mentioned, no UK or EU price yet but $6,999 in the USA. Photos below.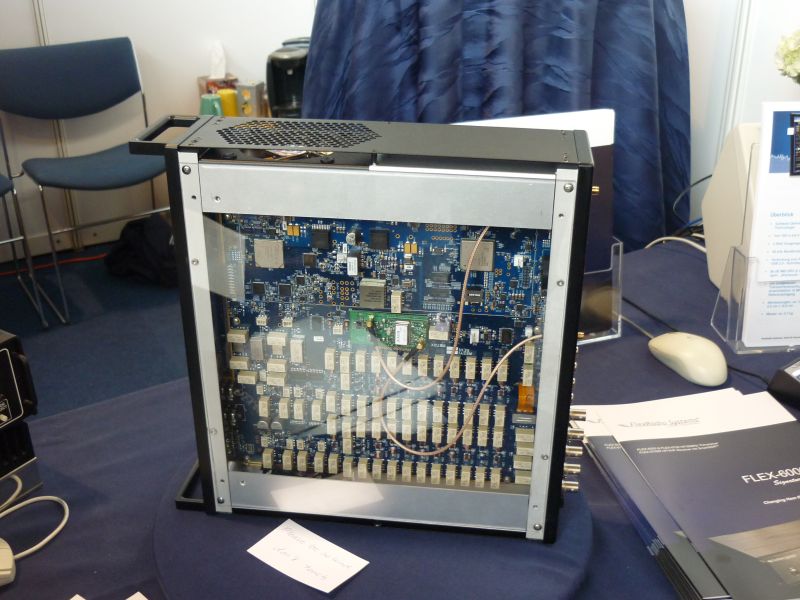 Click here for day two report.
73
John  DL/G8DZH