By sheer coincidence I was able to schedule a return business trip to Germany at the same time as the Ham Radio Show in Friedrichshafen, Southern Germany so on the 21st of June I once again found myself at the Gasthof Adler in Lindau with John Ray G8DZH and Andy Sanders G6ULX together with Brian G0GGM.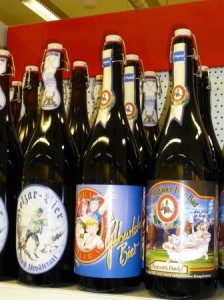 The show starts at the Messe Friedrichshafen on the 22nd of June but to start on the 21st we were looking for cool drink in the hot weather ie sunshine unlike the UK ! but we spotted these small bottles of beer that might be useful ! Three litre bottles !!
The show started on the 22nd so myself, John and Andy made our way to Friedrichshafen by local bus and train. As usual well organised by DARC with plenty of watering holes serving all sorts of food and more importantly beer. The show is divided into four halls with Hall 1 with the usual traders from UK and Europe selling new and second hand kit and two halls acting as a Flea market with plenty of opportunities to partake of a beer or two between halls in case of exhaustion !
In Hall 1 the Waters and Stanton, RSGB plus many other european  traders plus most of the European National societies were present although with typical German humour the Turkish and Greek societies were placed next to each other so you can guess that the air in between was a little frosty !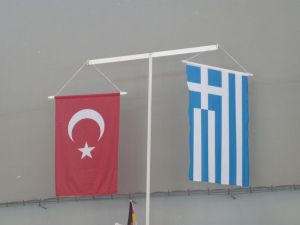 The Russian Radio Society was advertising their 20 year anniversary show in Moscow this September which we took great interest in, although this had nothing to do with the two young ladies plying us with vodka, caviar and chocolate !
Below are a few pictures showing various parts of the show but look out for John's G8DZH blog for more information.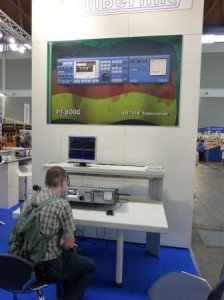 Hilberling PT8000 Expensive !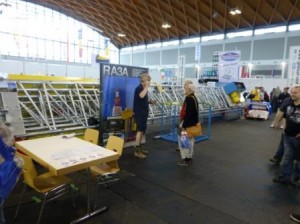 37M Luso Tower just perfect for small gardens !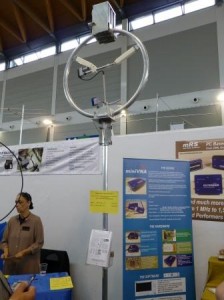 Magnetic Loop nice but pricey
This is just a few words and pictures of the show so far on day 1. Only new kit spotted was FLEX 6000 SDR at indicative pricing of $7000 and Yaesu HF/50MHz rig at similiar prices although nothing released yet.
The flea market had all the usual junk, army surplus and do it yourself NHS kits for the budding surgeons.
Unlike UK weather has been hot in the high 20's although with overnight rain but today blue sky and sunshine. We decided not to buy and display Greek flag due to some event taking place tonight !!
More from John later (click here for his reports).
73
Dick G4DDP