The second (of three) LEFARS external event this year, and in August, took place over the weekend of 22nd and 23rd August at Trinity Buoy Wharf, Poplar, London E14. It was an opportunity to participate in the  International Lighthouse Lightship weekend for another year.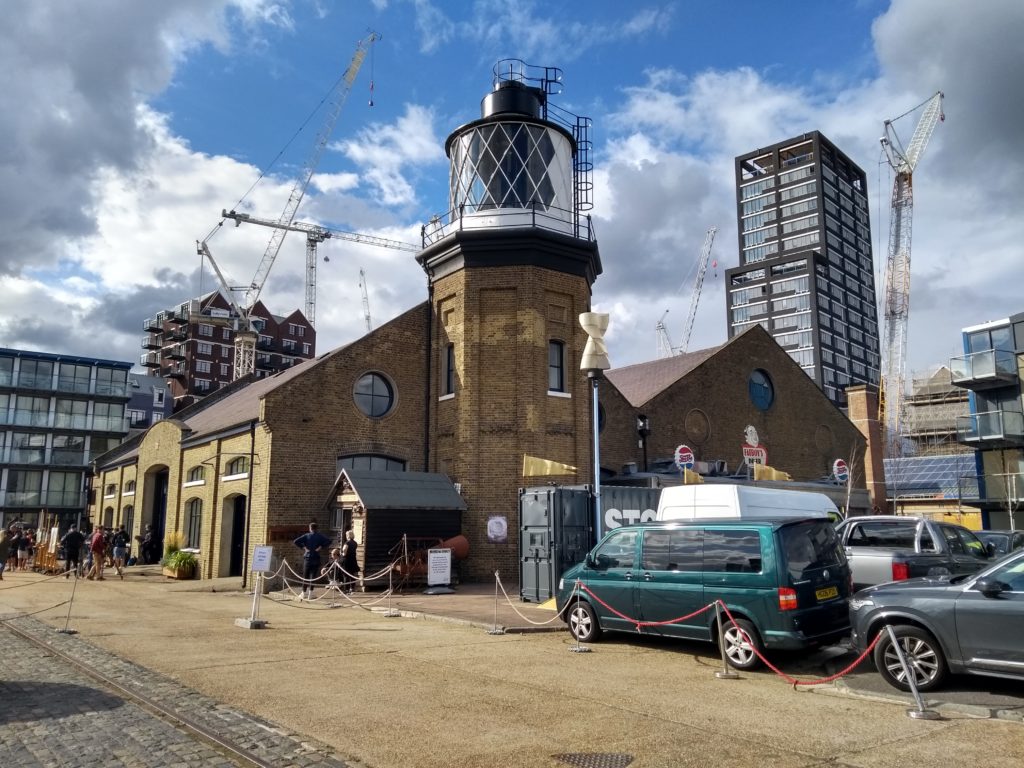 Trinity Buoy Wharf is located in a historic part of London, adjacent to the former East India docks and opposite the O2.  Perhaps better known now as Container City, a studio and office complex for its use of repurposed containers but also an established Arts & Culture  Centre. Located at the confluence of the Rivers Lee and  Thames, it was the base for The Trinity Company who established Trinity Buoy Wharf as its Thames-side workshop in 1803.  In 1869, Trinity House set up an engineering establishment at Trinity Buoy Wharf to repair and test the new iron buoys then coming into use.   The lighthouse (above) was built in 1864–66 by James Douglass for Trinity House. It was used to test lighting systems for Trinity House's lights around England and Wales and for training prospective lighthouse keepers. Michael Faraday carried out experiments there.  The Wharf continued through the twentieth century, closing in 1988, to be responsible for supplying and maintaining navigation buoys and lightships between Southwold in Suffolk and Dungeness in Kent.  Further information here.
The old warehouses are being replaced by very tall apartment blocks along Orchard Place. Each individual apartment is pre-assembled and lowered into place. Rather like a large Lego construction.   They also blocked signals to the north west on 2m.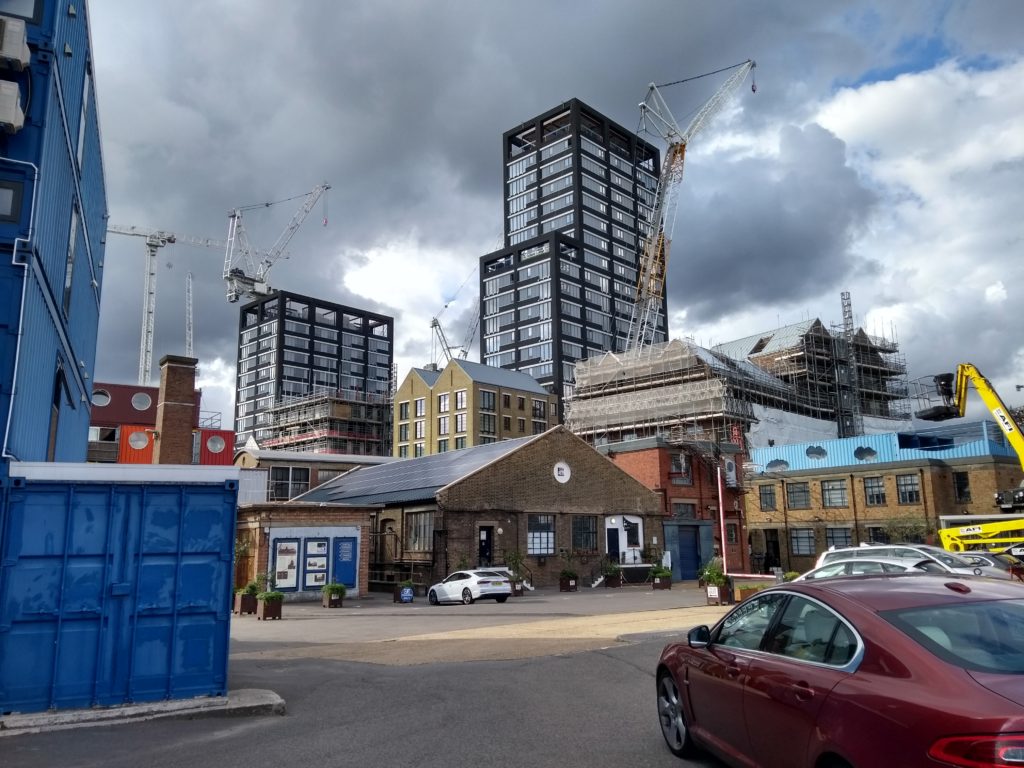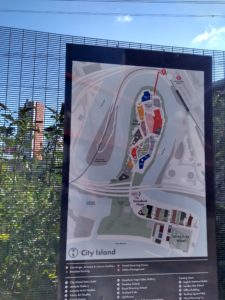 As a bonus, but due to filming taking place that weekend near our usual spot, we were close to Lightship UK0095.  Operation was from Dave M0MBD's mobile shack in conjunction with the trailer mast squeezed alongside for 2m FM and holding up a 40m/80m trapped dipole. There was no room for additional vehicles. Most attendees arrived via Underground (Canning Town) and a short walk through City Island. Map opposite.
Conveniently close was The Orchard Cafe, useful for all-day breakfast (Vegan/Vegetarian menu also) and refreshments for operators not on-air and visitors.   The legendary Fatboy's Diner, for those with heartier appetites, was also open.
Below: Richard G4DDP and John G0VEH relaxing (coffees not shown)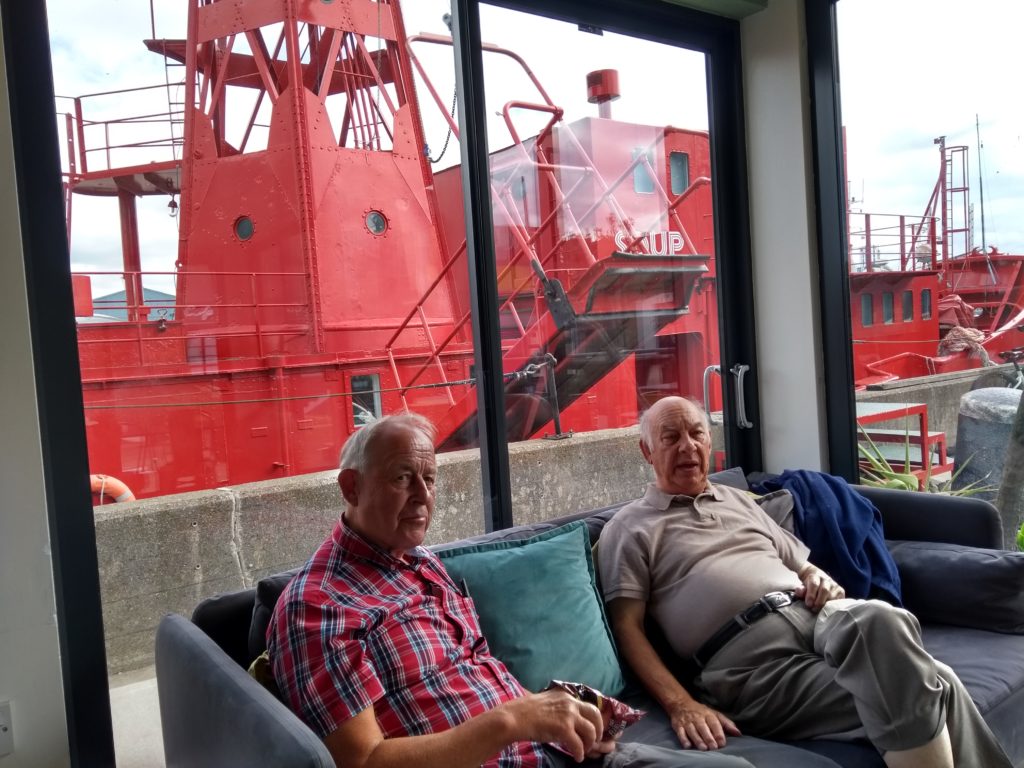 Below:  John G8DZH and Dave M0MBD caught by Richard G4DDP at the Orchard Cafe.
Set up started at 08:30 on Saturday after collecting the equipment at 7 am at its storage location in the Essex countryside.  Care was needed as large lorries were going close by for the weekend recording elsewhere on-site  (more below).   The mobile shack ignored the gusts of wind that previously have made operating from a tent "interesting".  It was noticed that reports for 2m were poor, further investigation showed a newly fitted UHF "tail" on the dual-band colinear had gone open circuit, Peter G4FQF reported  5+4 from Romford.  The active element was a few cm of centre coax!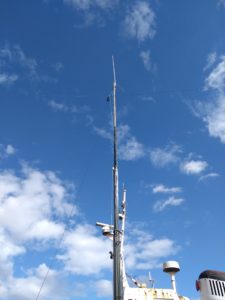 Station Manager Dave M0MBD started early on Sunday, 7 am, to work a few 80m QSOs.  More operators appeared after 9 am and operation continued throughout the day.
Sixty QSOs were made on 2m  FM over the weekend, most by Selim M0XTA
Right:  top of the trailer mast, X300 for 2m.
Below: Dave M0MBD on HF and John G0VEH on 2m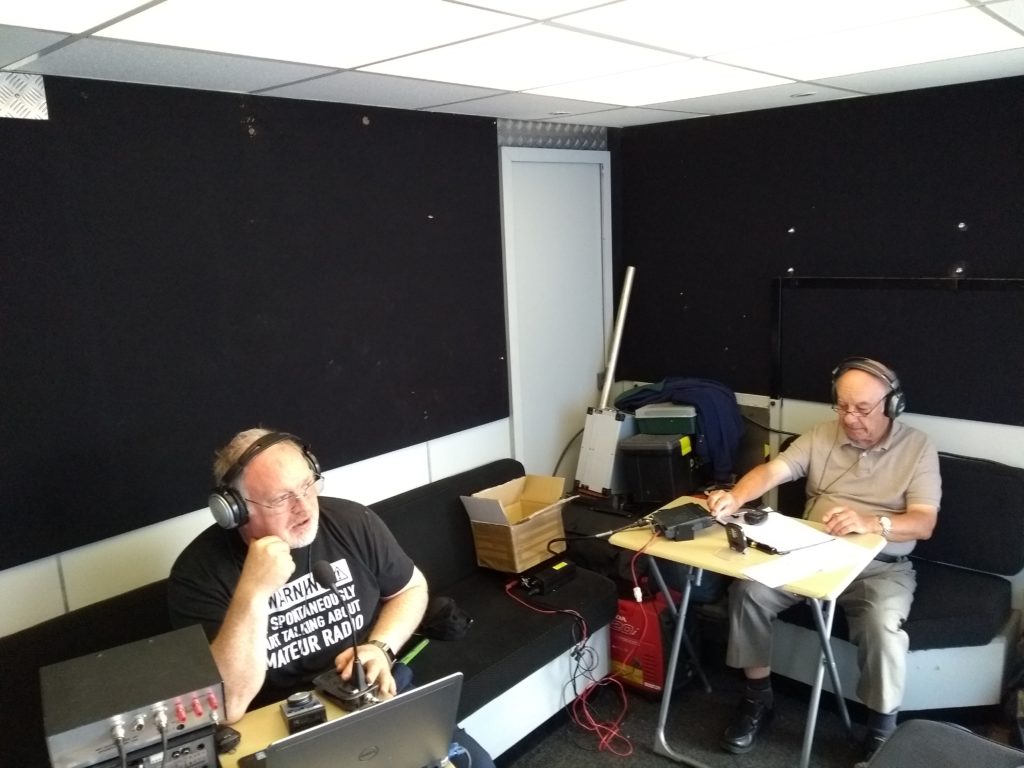 Below: Selim M0XTA on 2m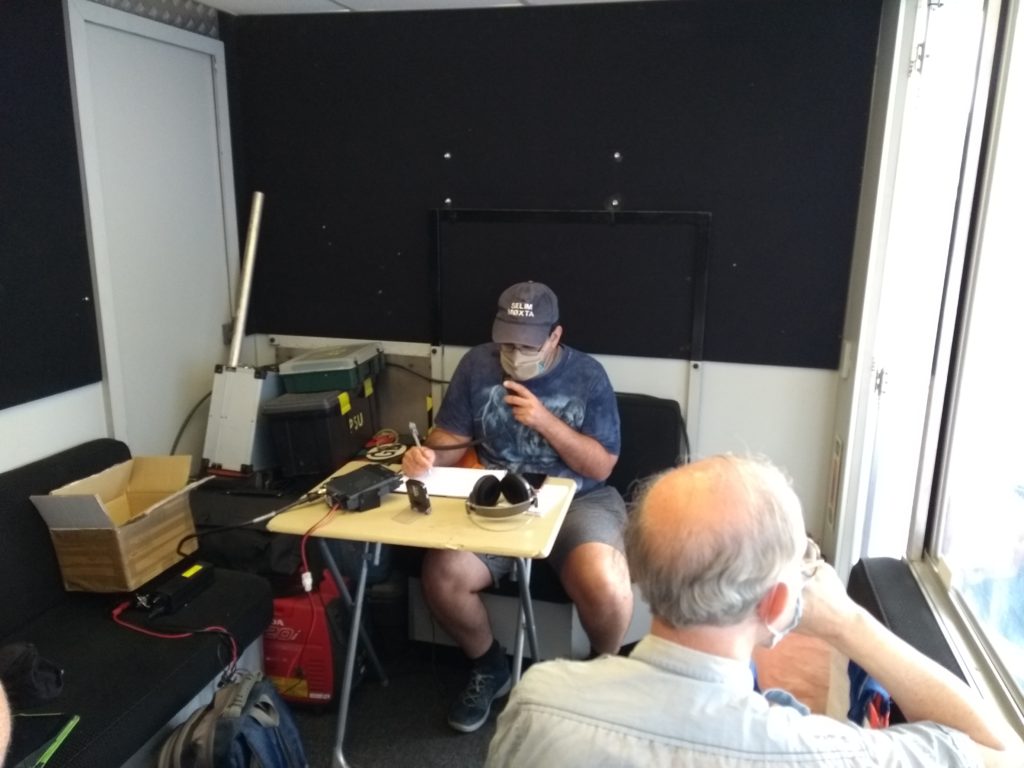 From QSL Manager Richard  G4DDP:
"For GB0TBW we worked the following:
119 stations all told on HF
79 on 40m
40 on 80m
15 lighthouses
DL    7
UK    4
NL    2
DK    1
IT      1
Not bad considering our location and with the virus some lighthouses not activated. Probably would be better at our usual location as in the clear etc but having 80m was a bonus"
Visitors over the weekend included Nick Dowsett G8PUY / W8PUY  a former  Barking Radio and Electronics Society member from the 70s and 80's. Nick moved to the US now retired and intends to spend the summer in UK London Docklands and winter in US Washington DC.
( L to R: Nick W8PUY/G8PUY below with Richard G4DDP centre and Dave M0MBD).
Also. on Saturday we had visits from Ben M0LGN, Peter  G0IAP and Glen M6GSN who lived nearby. In addition and over the weekend :
Saturday only – operators
Martin 2E0UKL, Merlin Fox M0MFX
Sunday only – operators
Selim M0XTA
Saturday & Sunday – admin and Operators
Dave M0MBD, David M0VID, Richard G4DDP, John G0VEH, John G8DZH
and Brian G4CUQ
Recording of the final of Sky Arts series Landscape Artist of the Year took place at Trinity Buoy Wharf over the weekend. Dave M0MBD posted on the LEFARS Facebook Page…
"Trinity Buoy Wharf, a bit of a distraction from the International Lighthouses and Lightships on the Air weekend, the final of Landscape Artist of the Year was being recorded. No spoilers here, finalists identities and winner not revealed! "
L to R: Kate Bryan, Tai-Shan Schierenberg, Steven Mangan and Kathleen Soriano plus a couple of production crew.

The GB0TBW outing to Trinity Buoy Wharf was enjoyed by those who attended. Thanks to Dave De La Haye M0MBD for the use of the cozy mobile shack and those who operated and assisted behind the scenes..
Photo Credits: Richard Clark G4DDP, Dave De La Haye M0MBD,  John Mulye G0VEH, John Ray G8DZH,