Portable Contesting in the early 1970's
This saga described at took place some forty odd years ago and those who took part are now much older and bolder not to say wiser? The equipment used was what was in general use at the time and considered quite modern. The only thing that has not changed that much in the intervening years is the aerial system. In 1971 one could not have envisaged how amateur radio and communications would change beyond all recognition. Much of the station's prime mover was ex commercial AM transmitters as home built was deemed to be too fragile and of course constituted the main home station.
Receivers were either commercial or ex service, 2M converters and pre-amps mainly home made. There were no FM black boxes then and transmissions were all AM. In about 1972 an SSB transceiver for 2M became available from Japan called a LINER2 with 10W output and synthesizer tuning although if tweaked to provide more power quite easily simultaneously transmit over the whole of the 2M band !  This revolutionized contesting and enable greater distances to be worked over AM as well as enhancing communication audio quality.
Over the next few years SSB took over from AM for contests as well as home operating.  FM also started to be used for chatting channels, and of course the start of repeaters such as in London with GB2LO.
During the 1970's the motley crew below operated in virtually every 2M contest during the early 1970's from not only our fixed site at Sumners Farm in Epping Green, Essex but from other exotic locations such as Blorenge Mountain in South Wales, Brecon, Rutland and Barkway in Hertfordshire under the guise of the NE London VHF Group.
The equipment in use over the years gradually improved from the AM days with a modified PYE Vanguard with 40W and Eddystone EC10 with 2M converter through to the various SSB offerings such as the TS700 and various transverter options driving a homebuilt valve amplifier with a QQV06-40A driven to the giddy heights of 80W output complete with glowing red hot anode on speech peaks !
It was whilst partaking of a few beers that the conversation turned around to thoughts on new contest sites and whilst the brain was under the influence of alcohol that one bright spark suggested that as Switzerland had mountains we should go their ! Logic and daftness won out so planning was started and off we went !
Back in those days venturing into foreign lands presented a few different challenges to today, no Euro so we ended up with various bags of different currencies and no open borders so routes planned to minimise border crossings and crossings chosen that were small and out of the way to minimise delays. In spite of this as you can see we did run foul of the Swiss border guards on several occasions.
Looking back on these adventures it was a miracle that we actually got there and back in one piece although vehicles breaking down was a given especially John G0VEH's Ford Thames Caravanette !
Despite all the trials and tribulations of this trip and many others, the participants of this expedition are still around in one piece so read our adventure below by John G0VEH ex G8ALM.
G8BXC now G4DDP      LEFARS chairman                                                                              BRS31976  now MØXBF still active                                                                                        G8BPH now more into vintage cars                                                                                                    G8ALM now G0VEH still active.
4 Go to Switzerland. Its only 400miles
Some of the strangest things we have done seem to be decided upon in a pub. We used to go out to a venue on Friday evenings for a few drinks and a chat. Who are we, well, there was a chap called Richard Clark G8BXC, Jon Rome G8BPH, Mick Toms BRS31976 and myself G8ALM, plus a few others from time to time.
We met up at the Travellers Friend Pub in Epping Green and the conversation turned to contests on 2M. We had previously operated from Epping Green and other various UK locations then someone suggested we go somewhere more exotic. The previous year a couple had been to Switzerland so we thought in 1971 we might give it a try and swop the Essex hills for the Swiss mountains. So that was decided then all we had to was organise it ! John had the old Ford Thames Caravanette and we had all the kit necessary, so what more do we need to do ? We all had passports but no Swiss licence. Richard undertook to obtain the reciprocal Licence and the HB9XUH call duly arrived after a few weeks. The July contest was only a few weeks away so the ferry was booked and we left early on the Thursday of the contest weekend. The route was from London—Dover—Calais—St Omer through France to Besancon to the Swiss border with no real problems and a couple of relatively easily fixed breakdowns although John's Ford Thames Caravanette found that climbing the Swiss mountains was more of a challenge than the Essex hills.
On reaching the Swiss border at night we encountered the authorities in the large shape of a guard. After pleasantries, passports etc he wanted to look inside the van, OK I thought no problem. One look in a cupboard brought about an apoplectic fit in this chap. He found chocolate, orange juice, coffee and lots of food as eating foreign food would be a step to far for us ! He told us that it was illegal to import these items into Switzerland and we were only allowed to import food for one day.
I think the thought of having to unload and search the van and all the kit we were carrying was too much at this time so with a few words he let us go. We arrived at the campsite and pitched up and went to bed, tired and stiff.
The next morning at Les Cluds campsite on the Jura

        The Caravan with Mick BRS31976 and Jon G8BPH:  
During the Friday we carried out a recce of the area to find a suitable site, preferably looking north back to the UK with a clear take-off.
The contest site on the Jura Mountains is shown below, this mountain ridge is located in the NW of Switzerland We were approximately 1400 masl with a clear take off back to the UK. Just a few km away was the highest point in the area Le Chasseron at 1607 masl as you can see on map below. The hotel on the summit was also home at that time to a Swiss 2M beacon and also used by HB9AEN as a contest location.
The rig was a Pye Vanguard 2m AM transmitter running 40W of AM, an Inoue IC 700R receiver and I believe a J Beam 8 over 8 slot fed yagi. The setup ran off a large car battery. We seemed to do quite well and managed to work 14 stations in the UK mainly in the south and mix of French, German and Swiss stations for a total of 41. We put an entry into the contest and appeared in the September 1971 RSGB Bulletin in 33rd place as shown below in the extract from the Bulletin. After the contest we did a bit of sightseeing, eating and of course had a drink and then thought about the journey home and what surprises that would bring !
Contest Site in the Jura Mountains, Switzerland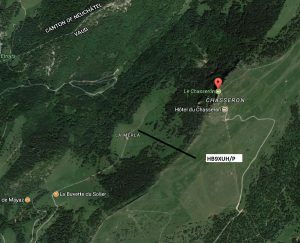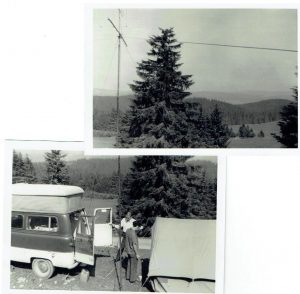 The Inoue IC700R receiver used, this radio had a VFO output which was needed for the accompanying IC700T transmitter but it was also used later to provide VFO coverage for 2M a step in technology from the crystal controlled days. The transmitter was a PYE Vanguard with 40W of AM, picture courtesy of Pye Telecom History Group.
On the Le Chasseron at the hotel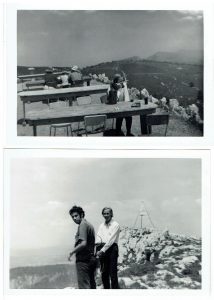 Jon G8BPH and Richard G8BXC at the trig point on Le Chasseron
After a very pleasant stay it was back to Calais and work. A tiring but nice break and guess what, at the pub after the trip we agreed to do it all again, this time with more people, better kit and a longer time the next year 1972. But that is another story….
John G8ALM now G0VEH