John, G8DZH, has converted my email to a few LEFARS members interested in 4 metre operations  into this blog post as hopefully of interest to a wider audience.  I'd been experimenting with the various settings for bandwidth with different handsets on a recently acquired Clansman RT-353. My thanks in particular to Dick G4DDP and Selim M0XTA for their assistance, patience and forbearance!
Manufactured by Marconi Space and Defence Systems in the late 1970's the Clansman RT-353 entered service in 1979 as just one part of the Clansman suite of equipment in the midst of the Cold War and was the most advanced VHF / FM transceiver of its day. Designed to be immune to dust and water ( it was submersible to 1.5 metres) and the occasional dose of EMP (there are valves inside!) it offered VHF  FM  (voice and data) facilities for use in soft skinned and armoured vehicles. Output power was switchable from 100mW to 50W in four steps. After receiving colourful comments from Dick and Selim around audio quality, I decided to investigate the waveform and bandwidth in standard trim using my newly acquired SDRplay  SDR  monitor receiver taking screen captures for evidence. For comparison purposes I drafted in the trusty Yaesu FT-857D in NBFM and WBFM modes on 2 metres.
The Clansman 353 supports three voice modes :-
NBFM – Clansman 353 – shown here modulated just by the 150c/s subtone – bandwidth around 5Kc/s – [ignore the spike at 70.469MHz being the LO]

WIDE FM with 150c/s sub-audible tone – Clansman 353 – again clearly heavily modulated – bandwidth around 8-10Kc/s just for subtone.
 WIDE FM no tone – Clansman 353 – much cleaner – the waveform would have been cleaner but was keying the handset which picked up some low level ambient noise.
Given G4DDP's scathing commentary of the audio quality but not others I suspect the effect of the sub-tone is radio specific creating IM audio products if the radio is susceptible. Bandwidth settings were crucial too to get good audio but on the SDR when set to NBFM with a 12Kc/s passband the audio quality was good …ignoring the subtone.
I then looked at the bandwidth of the signal when modulated by constantly blowing on the Mic in an attempt to create something akin to pink noise.
Modulated NBFM – Clansman 353 – that's not very narrow! – 25kc/s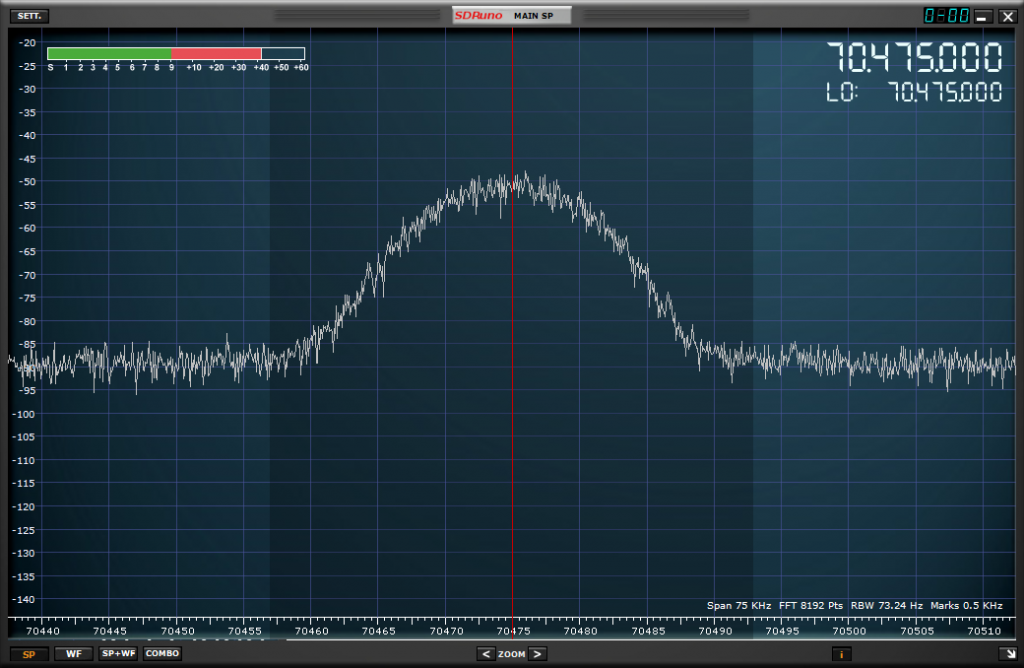 Modulated NBFM – Yaesu 857D – by way of comparison here's what the Yaesu looks like – that's more like it!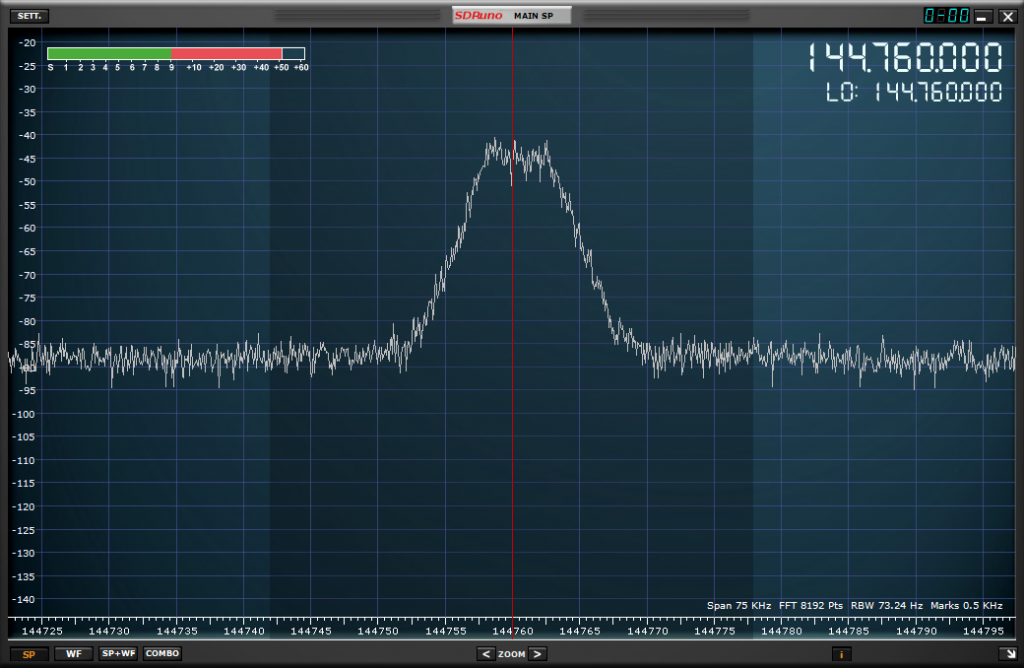 Modulated WBFM – Clansman 353 – that is very W..I..D..E – 50k/cs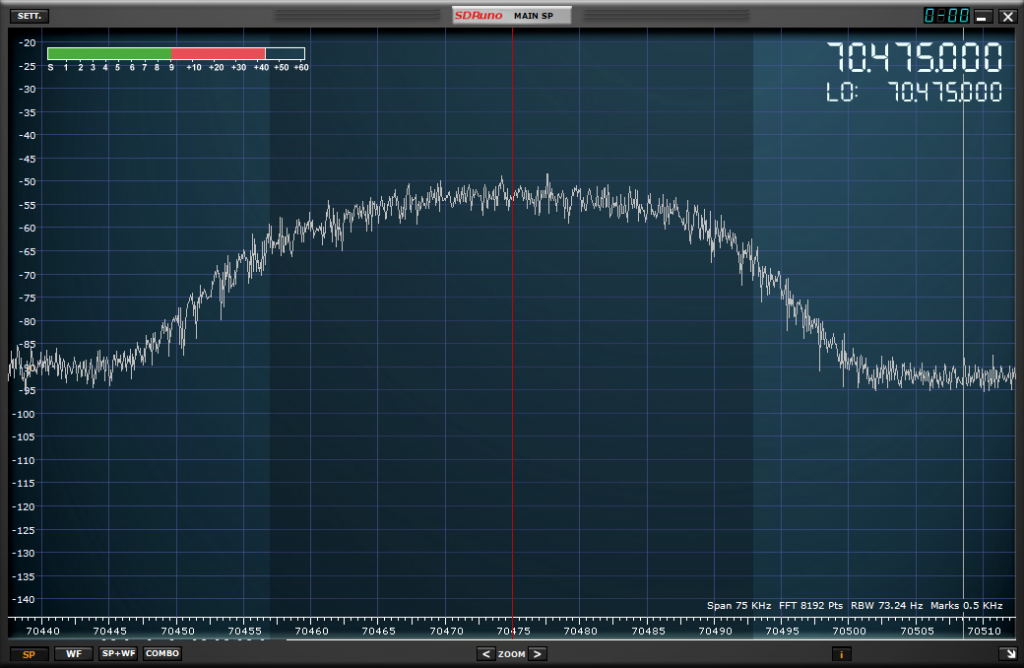 Modulated WBFM – Yaesu 857 – textbook!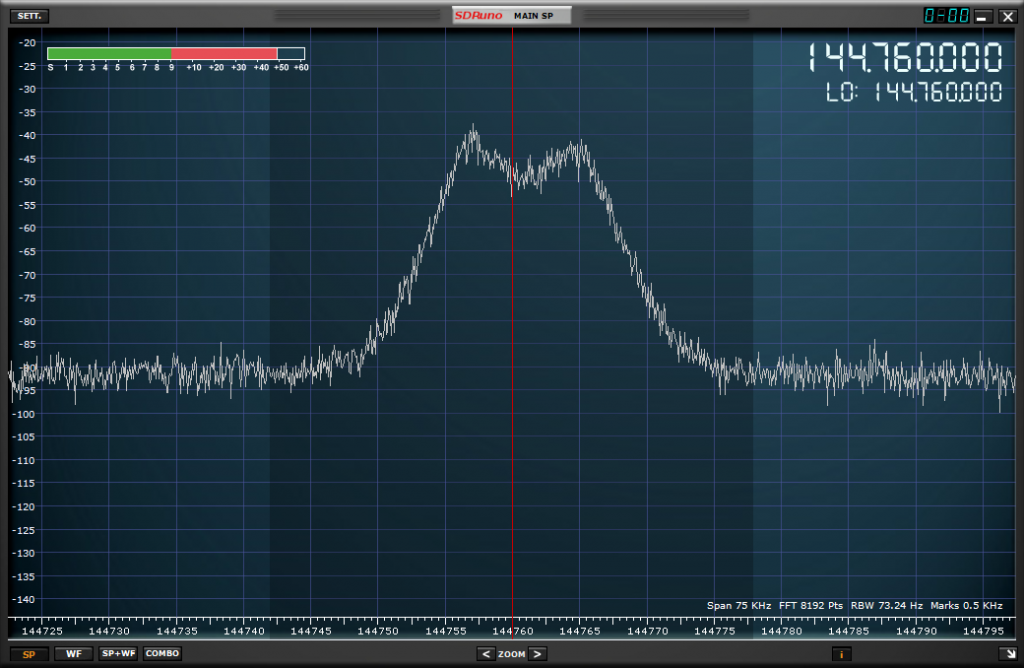 And finally a pic of the beast itself cleaned via removal of a thick layer of Iraqi dust.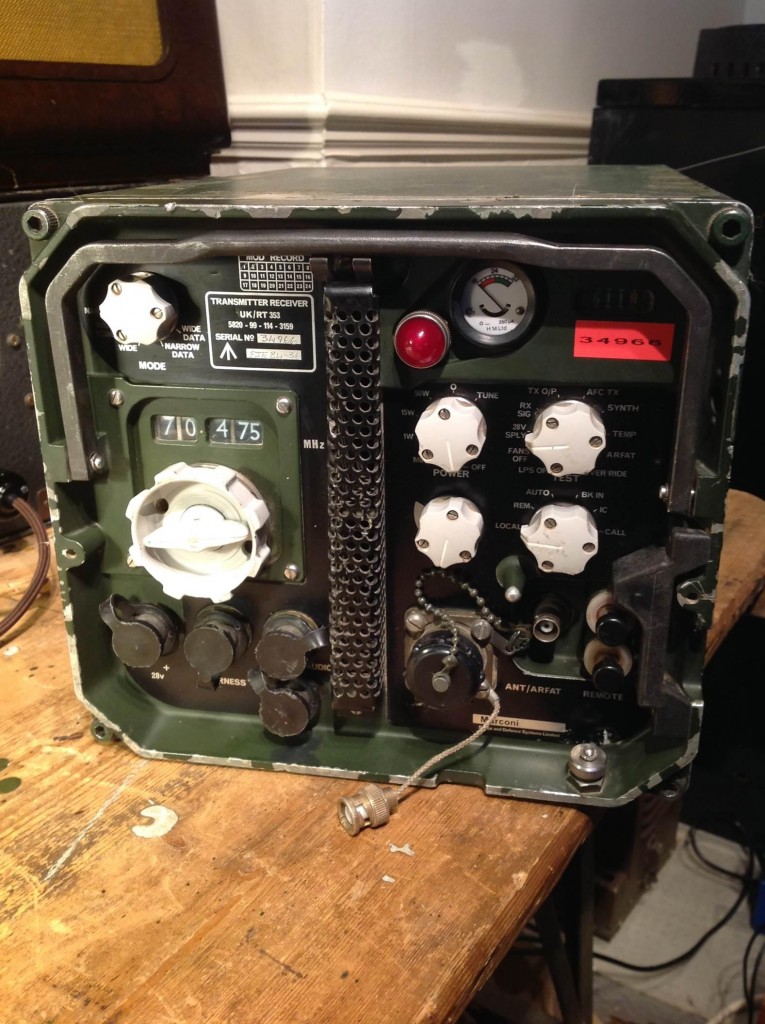 Given the strength of Dick's (G4DDP) objections to the audio, I decided the subtone had to go if I was to use the 353 on the Amateur bands. Information around how to do so was found within this article :
http://5820-99-114.com/TCRU/?p=609
It was very simple to do and very effective – a simple tweak of a 10-turn pot whilst monitoring the tx but only after spending a good 15 minutes admiring the superb quality of the electromechanical engineering. I'll post some pics of the internals to this article next time I open the box.
Once done Dick was heard to say the mod "wasn't bad at all" on the following day's QSO, praise indeed! Selim described it as very good too. Job done. Will be put to good use on the local 4 metre nets and with 50watts available should be very effective.
For those who'd like to learn more about the Clansman 353 here's a link to an excellent PDF from Marconi.
www.ferret-fv701.co.uk/radio/clansman_vrc353_description.pdf
There's plenty of information available on the net about this and other Clansman radios. At the time of writing (Dec 2016) there are still plenty of 353's available to buy on the surplus market and auction websites. Prices for a working 353 start around the £100 mark but can be as much as £500. I hesitate to think how many thousands they must have cost the taxpayer in 1979.
They served the British Army well from 1979 to 2010.
73s
Dave M0IDF
Email: m0idf@lefars.org.uk