Over the weekend of the 20th and 21st of August LEFARS members congregated at Trinity Buoy Wharf in East London for its annual activation of Trinity Buoy Wharf Lighthouse in order to participate in the International Lighthouse Weekend – ILLW. http://illw.net/ This year we were also going to activate the Lightship 95, which is permanently moored at Trinity Buoy Wharf and is used as a recording studio. http://www.lightship95.com/ Both activations have been made possible due to the support of Ben M0LGN whose IT company Onega Ltd is based in the Container City at Trinity Buoy Wharf.   http://www.onega.net/overview/
Our aim was to run HF from the lighthouse and VHF from the lightship, however the weather on Saturday morning was a little bit windy so our plans had to be modified somewhat. For HF we were going to run the main station on 40M using a dipole from the top of the lighthouse across to a telescopic mast and a secondary station on 17M and 20M using a dipole from the top of the lighthouse down to a convenient anchor point. Operating would be done in one of our tents but the weather had other ideas ! After a few tries to erect the tent we quickly realised that due to the wind the tent would either get ripped to shreds or end up wrapped around the Emirates Air Line down river so we abandoned that and had a think !
Following Bob the Builder's advice we retired to the Bow Creek Cafe on site and partook of a healthy breakfast to get the brain cells moving ! The Bow Creek Cafe played an important part during the weekend keeping everyone going, whenever HF sunk further into the doldrums a quick visit to the cafe for sustenance worked wonders !
http://www.trinitybuoywharf.com/about/eat-and-drink
https://www.facebook.com/bowcreekcafe/
                             Munching !                                                  Thinking !
After a lot of thinking and munching we decided that we would operate the 40M station from the back of Marc's van and the 17M/20M station operated al fresco from a picnic table outside the abandoned Fat Boy Diner.
For the VHF station we ended with a 6M,2M & 70CM aerial mounted on the light tower of the lightship at about 20 feet above river level but due to the tide this increased by about 8 feet.
 Slightly askew aerial !              James 2E0JBU being              2M, 70CM & 6M aerial                                                                    made to walk the plank !
40M Dipole and 20M Dipole
Finally after all the thinking, eating and general prevaricating about we were finally ready to do some operating ! As expected HF conditions were not good and operating from an industrial area meant we had a fair amount of noise to contend with both RF and audio from being under the London City Airport flightpath.
As the VHF aerial was only mounted about 20 feet above river level we were not expecting to work DX but 52 stations were worked over the weekend.
HF wise 20M and 17M were poor with only a few stations worked including lighthouses in Scotland, Ireland and Slovenia. 40M fared better with inter G plus European stations and 20 lighthouses worked in England, Scotland, Germany, Ireland and The Netherlands. On Sunday afternoon conditions picked up and a flurry of European stations were worked.
Lighthouses worked from both stations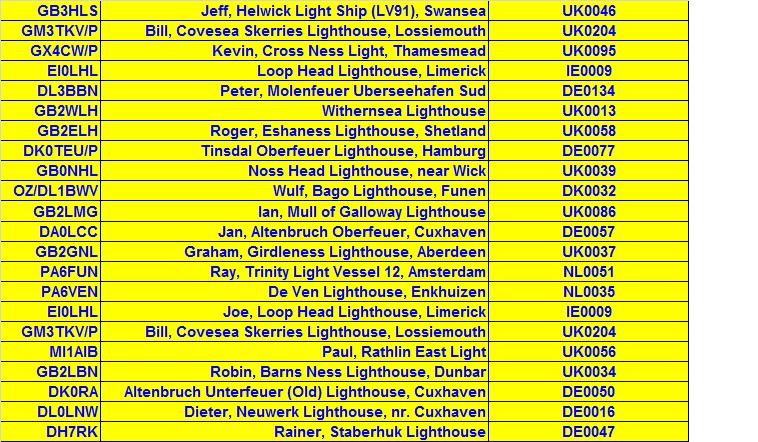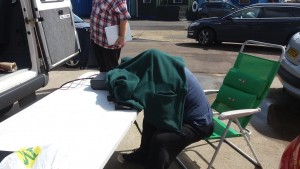 Believed to be Marc G0TOC either asleep due to lack of good conditions or a new sunshade !