The first (of two) LEFARS Field Weekends for 2014 was held on 19th/20th July at Aylmers Farm, Old Harlow.  Home to John G0PTG and Audrey Mattison.  It was a chance to relax in a field in the Essex countryside, play radios and chat with fellow LEFARS members and friends. In addition, the committee wanted to re-paint the  mobile antenna mast whilst willing 'volunteers' were available.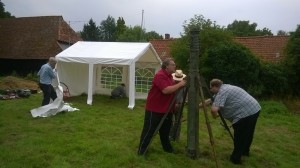 July has seen some extreme weather and thunderstorms were predicted for the weekend as well as mid-30°C temperatures.  The marquee was collected from the store and erected on Saturday morning by Ron G6LTT, Dave G3ZXF and yours truly – we had shelter!   Measuring 3m x 2m, there was plenty of room for the proposed 20m HF station setup to be provided by George M1GEO and space for VHF (or 2nd HF station) as well.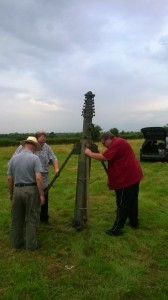 Mains power (at the end of a 50m drum of cable) was procured from the Cow Shed; George M1GEO and Chris G8OCV arrived with two cars laden with equipment. Not least was 90kg of metal taking up most of  the length in the back of the estate – a  12m telescopic SCAM (Self Contained Antenna Mast) mast capable of supporting up to 70kg of antenna. This nice bit of ex-NATO kit was sturdily built and was used to support a rotatable  20m beam  and also a 2m/70cm colinear on top.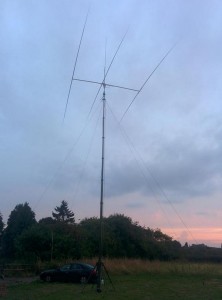 The  homebrew 3 element monoband 20m beam (also configurable for 17m)  was of aluminium and fibre glass (fishing pole) construction with wire elements and toroidal Balun; good for 1kW.  Once lifted into place on the now-assembled SCAM, a handy  compressor sent it slowly 12m up in the air after aligning the rotator for true north.
By now, lunchtime, it was very hot and not a lot of shade to be had – except for the marquee. Dave G3ZXF had set up his portable canteen and hot drinks were supplied at regular intervals.
George M1GEO had brought his Icom IC-7700 try out, its 200W output a useful extra bit of power. As other HF stations were expected over the weekend, a 20m bandpass filter was also used (another 40m bandpass filter was available too).  Conditions on 20m over the weekend were poor but 55 QSOs were made on 20m. Better conditions were expected in the early hours of Sunday morning but they never materialised.  Best Dx was VK6BP, Chris from Broome, Western Australia.  Other notable Dx included John VE3MFA, Niagra Falls with a 90 minute QSO.  Also Larry W1UUU – a humorous QSO about the Cock Inn in Sheering!
An Icom IC7000 was used for a few QSOs on 2m FM – not many – including local club members.  Also on 40m SSB temporarily borrowing a G5RV antenna previously setup  for John G0PTG. With the 40m bandpass filter in use, no interference was observed  between the two stations.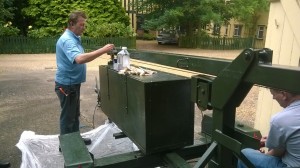 George M1GEO and Chris G8OCV had stayed overnight at Aylmers Farm, others returned on Sunday and a working party was setup to re-paint the antenna mast in the morning whilst it was cooler. This didn't take as long as expected and was completed by noon.
By 3.30pm, there were signs that a storm was brewing. We could see the distant flashes of forked lightning (and hear them  on HF). The clouds also looked ominous. We decided to start to pack up; a wet marquee is not easy to store. By 4.30pm the field was restored to its previous empty state.  On the way home, a torrential downpour, with co-ordinated lightning made an interesting drive home.
The committee would like to thank  Audrey and John (Jnr) Mattison for an enjoyable weekend at Aylmers Farm.
73
John G8DZH