Whilst club chairman John G0VEH and I collected display panels and PR material from storage, John G8DZH and Paul M0LRE made their way to Centric Parade to find our allocated pitch.
Although Love Loughton Fun Day officially began at midday, dry and relatively warm conditions seemingly enticed many local residents out earlier to visit the exhibitors' stands that had been setup in St Mary's Church and on the High Road.
During the course afternoon we were kept occupied by talking to members of the public about amateur radio and about the club's activities and we also encouraged many younger visitors to "send" their name in Morse Code. And, apart from the visiting club members Elaine and OM Stephen M6SRE and Paul G6XIP, we also welcomed to our stand Loughton Town Mayor, Cllr. Stephen Pewsey who was accompanied by Epping Forest MP, Eleanor Laing. Before moving-on, Mrs Laing's son took the opportunity to tap out "Matthew" in Morse Code.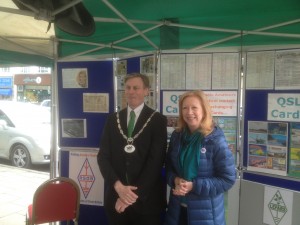 By 14.00 there was a noticeable drop in temperature and the wind had built from an early light breeze to strong gusts. So by 14.50, with the threat of rain materialising we, along with the majority of the visiting public, decided to cut and run.
Not a bad day overall, but LEFARS are unlikely to return to "Love Loughton" unless the organisers stage future events during the warmer and possibly drier, "summer" months…
73, Marc Litchman – G0TOC
Secretary, LEFARS