With a long Bank Holiday, it wouldn't be complete without a visit to the W&S Open Day held on Sunday 3rd June. It isn't very often that the event coincides with lots of activity on the River Thames – but there was rain at Hockley too!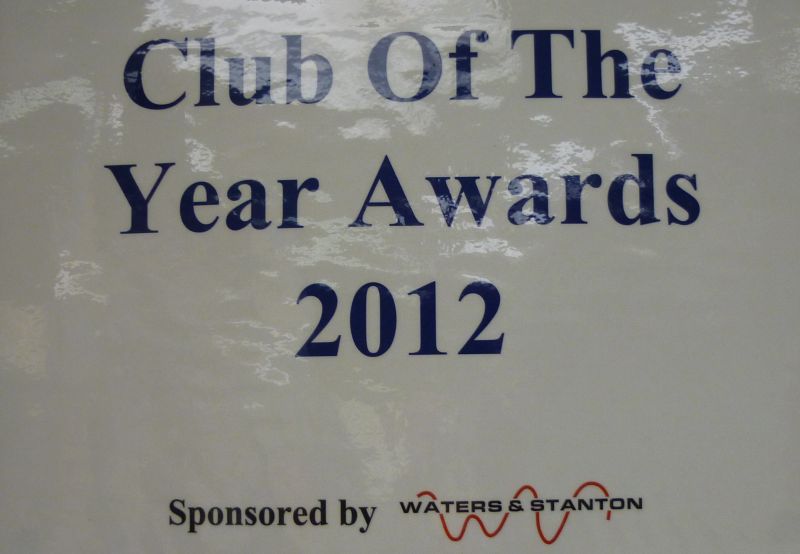 John G0VEH and I went along to the W&S Open Day to have a look around and to collect the trophy for the Regional Club of the Year. Waters & Stanton sponsor the Club of the Year Awards and LEFARS were the winners for Region 12. LEFARS went on to become third in the National Award; the certificate and cheque were presented at the RSGB AGM in April (see June RadCom for details and photo below).
We arrived at lunchtime, a bit quiet but no doubt missing the earlier rush. A useful 10% off on all new purchases and the Service Department clear out meant there were bargains to be had. Yaesu, Icom and Kenwood UK representatives were on hand as were  InnovAntennas and the RSGB bookstall. Not forgetting Chelmsford ARS and the Essex Repeater Group. There was an active lecture stream with Justin Johnson G0KSC giving a talk on Innov Antennas to a packed room upstairs. Earlier talks included a timely "The Olympics & Amateur Radio" by Murray Niman G6JYB and a lecture on Microphones by Peter Waters G3OJV.
Tea, coffee and nibbles were on offer and most welcome. We met up with a few LEFARS members including Keith G1HEQ and Steve G6ART.
Just after 2pm and it was time for presentations. John G0VEH and I received the Regional Club of the Year trophy and certificates plus a bottle of bubbly! The latter will appear at a LEFARS event in the near future to share as we participate in the Club's 50th anniversary celebrations. Thanks W&S!
The Charity Raffle followed with radios donated by Kenwood Icom and Yaesu. The first prize was a Kenwood TM-D710E. 2nd prize an Icom D-STAR radio (IC-E80D) which was won by a surprised Paul M0XLD. Third prize Yaesu FT-60E. 4th Prize bhi DSP speaker. 5th prize W&S Quansheng TG-UV2. Last, but not least Mark's Goody bag with assorted sundries.
After a last look around, we left Hockley in the light drizzle; the A127 was clear and not much traffic about. Perhaps everyone was staying indoors and watching The Diamond Jubilee Thames Pageant?
73
John G8DZH
LEFARS Newsletter Editor
Email: g8dzh@lefars.org.uk