A quick report on a visit to Newark (the one near Sherwood Forest, not New Jersey) for the 2011 National Hamfest held at the Newark & Nottinghamshire Showground on Friday September 30th and Saturday October 1st. The National Hamfest is organised by the Lincoln Shortwave Club in association  with the RSGB.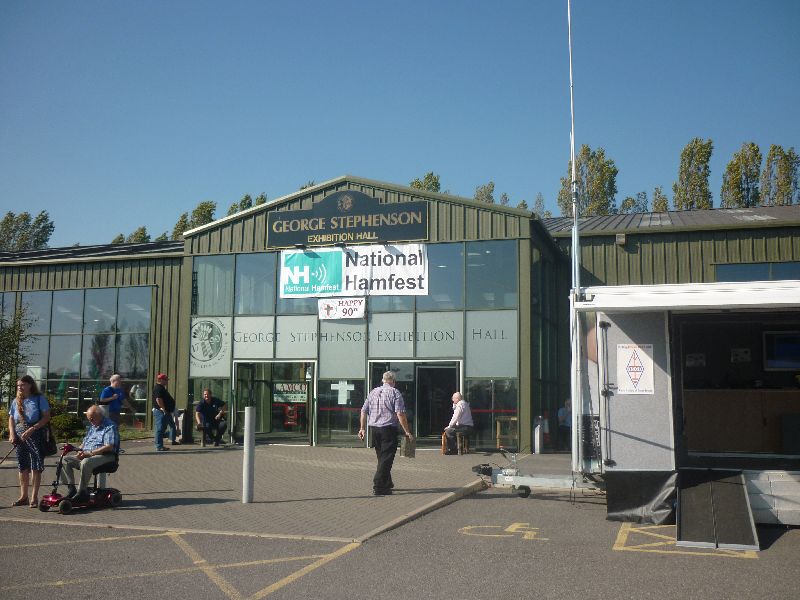 The LEFARS touring party (5 in John G1DJI's car;  myself, John G0VEH, Marc G0TOC, Derek M0XDC and the driver) left Loughton just after 8am and arrived at the venue at about 10.30.  Tickets had already been pre-ordered online but there were no queues anyway. If we had got there at 10am, we would have seen Wx forecaster Jim Bacon G3YLA cutting the ribbon to open the show.
The first shock was the total lack of rain, wind and chilly temperatures endured in previous years. Instead sunshine and up to 28°C. Unheard of!!  I even had a (Yorkshire Dales) ice cream to cool down in the afternoon. Outside, the GB4FUN trailer was parked near the main entrance. And quite a few Bring & Buy stalls laden with PMR sets and other goodies. This time it wasn't a problem looking around.  Whilst looking at some overpriced military surplus, I noticed what appeared to be a T1154 transmitter; instead it was the civilian version. Yours for only £650. The dealer was patiently explaining to an elderly  punter that he was the third person that morning who had said they'd scrapped truck loads in a previous occupation/life. Bits of Clansman equipment also seems to fetch high asking prices.
Inside the main exhibition hall, the usual traders with the RSGB having the prominent centre position. A range of RSGB committees had their own booths; for instance EMC, QSL bureau, training/RCF etc. The yearly ritual of checking my callsign in the new 2012 callbook (yes, I am still alive) was accompanied by a purchase; the latest Radio Communications handbook for the LEFARS library. This came with a canvas goodie bag containing… NH 2011 cup, 2 x beer mats, disposable rain 'poncho', pad of paper, pen, RSGB badge.  No PK cuddly toy or bag of RSGB sweets. But instead a RSGB lollipop!  For those joining the RSGB at the show, the free gift was a 2012 RSGB Yearbook.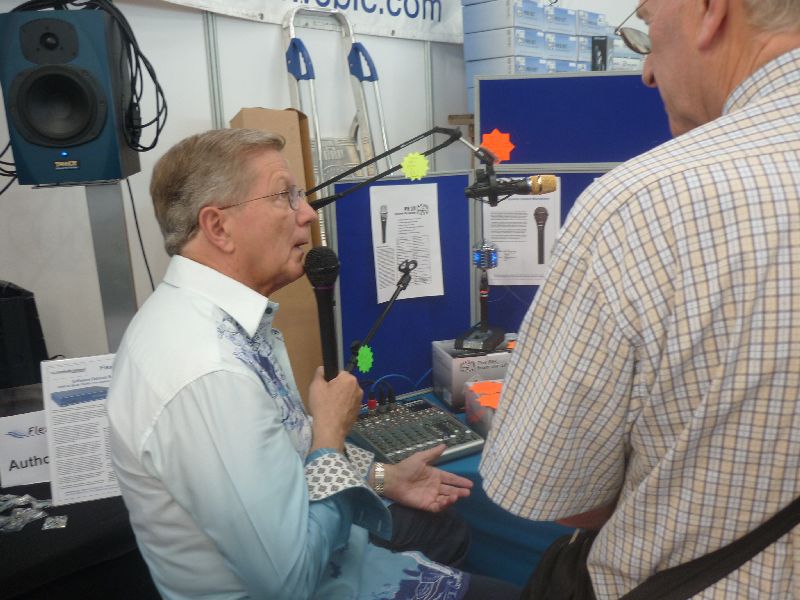 Bob Heil K9EID  (above) was demonstrating his Pro-Set-6 headset and mic inserts etc. on the W&S stand.  The ARRL were present as well. Lynchie, Moonraker, W&S, Radioworld and LAM Communications (Barnsley) provided plenty of outlets to purchase new and used  equipment. As an example, the Icom IC-7000 reduced to £999 and Yaesu FT817ND to £499.  Icom, Kenwood and Yaesu had their stands with the latest radios on display.  Icom were demonstrating D-Star data transfer (DD digital data mode) across the stand with a remote webcam to display on a laptop.
For those LEFARS members who have the Baofeng UV-3R dual-band handie (£22-£27 + P&P from HK), would be amused to see the price it is on sale at the show. LAM Communications wanted £49.95 and extra for the 'free' accessories. And still the Mk1 version. But a nice display [see photo at the end]
For some reason, there was a proliferation of self-amalgamating tape for sale. USA origin. Also SDR radios. Two stands with the commercial offering and demos from Flexradio and Bonito.  But also a nice SDR kit from the Milton Keynes club for just under £80.  Surface mount components though 🙁 However, Derek M0XDC succumbed and is itching to get constructing. [click here for photos and a write-up in the Home Construction  section of this blog]
No Luso tower this time. A good range of components and PC peripherals on sale. Both Poole Logic and Westlake were selling coax cable and other essential antenna bits. Also Sandpiper and Moonraker. From Mainland EU,  a chance to buy kevlar rope in a range of sizes to keep your tower vertical (Mastrant from the Czech Republic) and  also Tecadi from Germany who were selling GRP masts and accessories. And some special offers on test instruments at show prices from Peak.
PW and RSGB Books provided plenty of reading material to buy and peruse.
Food vendors – a reasonable choice. Burgers outside and well supported; tables provided for diners. It was very pleasant sitting outside in the sun and gentle breeze. Also catering inside, albeit somewhat warmer – coffee & tea were £1.50.
The Derby Wireless Club had a fine display area celebrating their 100th anniversary. A wealth of detail from the early years.
Other club members present were Dave G4FKI and Peter G4FQF. We left just after 3pm; got home 2.5 hours later. A14 a bit slow but no hold-ups. All in all a good day out. I enjoyed the show. And an especial thanks to John G1DJI for the car-sharing opportunity to visit the 2011 National Hamfest.
73
John G8DZH
[email g8dzh@lefars.org.uk]
30th September 2011
Spotted on the Hamfest 2011 site
Also found lurking was,
Can't spot him?  He is behind the chap with the blue jacket and baseball cap!
From  Dave G4FKI …
And the camera of John G8DZH ….