I have just spent 10 days at my caravan on the Dorset / Devon border, and very pleasant it was. I took my radio with me hoping to do a little portable work whilst I was there. I also had a sked with Marc for GX4WAB, on both days.
I was also trying an aerial I had made some time ago, but had never really trialled it. The aerial is a V type dipole consisting of 2x 10m poles with the wire fed through the pole centres. As can be seen from the photo it is a simple aerial for a limited space.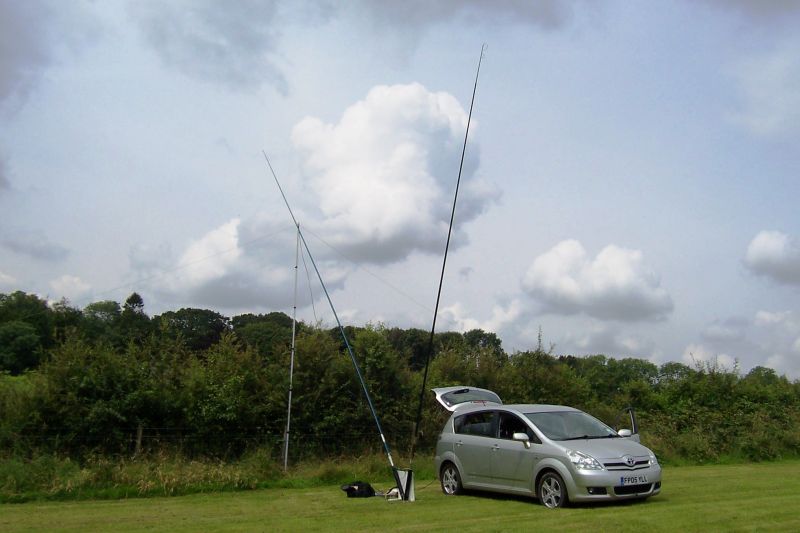 I also erected my standard doublet as a comparison, especially as I know what to expect from this one. I got permission from the wardens to use the large camping field for a few hours each day. The equipment used was an Icom 706mk11G running at 50W from a 68Ah leisure battery. I find I can get a days operating from this setup with careful use of power levels.
Unfortunately radio conditions were poor on all the HF bands and only a few contacts were made on the Saturday. The signals from Marc (operating GX4WAB) were unworkable, as were most UK stations. A high static and noise level made operating very difficult. On the Sunday conditions had improved and I was able to work UK stations more easily and managed a QSO with Marc at about 55 with QSB. Stations from the north of England and Scotland were very strong. The aerial seems to work as well as my standard aerial but further trials will be needed.
The weather was very good and got hotter as the week progressed, as did noise and static levels. So I decided that my time would be better spent carrying out a food and drink survey and to do what holiday makers do.
73
John G0VEH    (Email: g0veh@lefars.org.uk)
Links.
Follow the Torch (GX4WAB) Days 64/65 report here