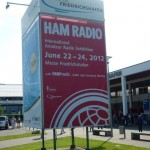 Hamradio 2012 is held over three days, this year 22-24 June, but always Friday to Sunday. Day two seems to attract more being on a Saturday and 2012 was no exception. By Sunday it is fairly quiet and, for most, the going home day.
Following on from the previous day one report, Saturday was similar except a (free) long "bendy bus" was provided to move more hams to and from the show from the railway and station/harbour. This worked well with seating for all. We arrived at about 9:50am.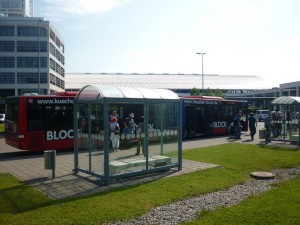 This time I concentrated on the Flea Market halls, A3 and A4. To visit one hall and inspect every table takes 1km of walking. This is a marvelous fitness regime, negated unfortunately by additional partaking of food and drink to compensate.
As well as the two Flea market halls, a re-visit to the main exhibitors hall to see the new radios from Kenwood and Yaesu (photos below with text). We left a bit earlier,about 4pm as fairly tired and planning for trains etc back to Lindau.
As Dick G4DDP has commented, you could buy just about everything in the flea market. As well as complete dentistry and surgery equipment, almost every conceivable sort of component ever made. The range was staggering. Antennas came in all shapes and sizes. It was a shame that pricing sometimes tended to be 'optimistic'. This was especially prevalent with used Test Equipment. €1600 and higher on some analysers. However, you could have left with a complete 400W 10-12GHz satellite Tx or a Band II Tx with stereo encoder for €50. Even 400W 4m PA's.
More stuff in the day three report (link at the end of the photos below).
73
John DL/G8DZH
Email: g8dzh@lefars.org.uk
Halls A3 and A4
Please click here for Day 3 report.